Welcome to the sweeping information page of
Your professional source for pavement cleaning, power washing, and related services throughout the Greater Atlanta, GA service area!
Elite Maintenance Services, Inc.

OFFICE:
1101 Ferncreek Ct.
Acworth, GA 30101
Phone: 678-778-1544
Email: info@elitemaintatl.com

---
We're proud to be a member of:
---
And a Founding Member of WorldSweeper.com's Ethics in Sweeping Program: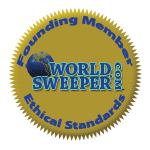 When you Need Power Sweeping Services, Elite Will be There for You!
Our sweepers can handle most any job you have. Whether it is a housing subdivision entry and parking or a commercial / industrial development property, we can clean it.
We also offer a host of other services. Call today to find out how easy it is to work with us to maintain a clean appearance for your valuable property.
Keeping all outside areas clean and properly maintained is becoming increasingly recognized as an important element of successful business property management. Studies have shown that cleanliness ranks as a top factor in determining where people shop, and external cleanliness is seen by many as equally important as that of the interior of the building. See our Why Sweep handout for more information.
At Elite, proper pavement maintenance is as important a concern for us as it is for the property owners and managers we work for. Plus, in addition to sweeping, you can count on us to provide a complete suite of services tailored to your exact needs.
Sidewalks, loading docks and difficult-to-clean areas are cleaned with commercial power blowers. We also empty trash and hand-pick grassy areas and flowerbeds. One of our many missions is to deliver services that exceed customers' expectations for efficiency, effectiveness and adaptability. We place special importance on quality and the individual needs of each client. Whether the need is daily, weekly or monthly, Elite Maintenance Services, Inc. can accommodate your requirements.
We are proud of our industry involvement with IREM and the World Sweeping Association. To learn more about the advantages our WSA membership provides to both our company and our customers, click here or on our WSA Founding Member logo:
Home + Why Sweep? + Power Sweeping + Other Services + Quote Form
---
Copyright ©2005 – 2019 Elite Maintenance Services, Inc.
All rights reserved.